Frequently Asked Questions
1. What is the price of the e-stats data?
| | |
| --- | --- |
| Product | Price |
| Manufacturing approved projects (2021 by industry and by state) | RM20 per product |
| Manufacturing approved projects (2021 Overall) | RM300 per product |
| Approved projects on selected services (2021 overall) | RM300 per product |
2. What is the method of payment?
You can make Online Payments or cash deposit directly into MIDA bank account at CIMB #8602680428. The payment can be done via Inter Bank Transfers or Automated Teller Machine
• Please attach the proof of payment slip and provide online banking reference number to complete your order.
3. Would it be possible to have refunds or order cancellations?
No, unfortunately MIDA does not allow refunds of completed payments or cancellations of orders.
4. How do I submit an order for the e-stats data?
To purchase our e-stats data, please register at https://estatsdata.mida.gov.my and complete the necessary details. Upon completion of order and payment, an email notification will be sent with further instructions.
5. I have received an email verifying my order. How do I proceed?
Please click on the link provided in the email and you will be redirected to the MIDA webpage. As provided in the email, enter your Order Number and Access Code and the download feature should be unlocked as shown below.
The access code will be invalid after 5 days of initial download (with a maximum of 2 times downloading).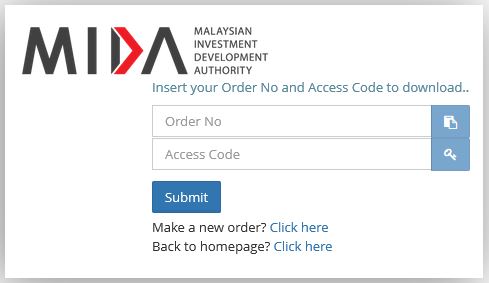 6. How do I request for tax invoice before placing an order?
Please email your request to sales_statistics@mida.gov.my for E-STATS DATA invoice

7. Can I have some samples of the product before purchasing?
Please refer below for a few image samples of the e-stats data

| | |
| --- | --- |
| Product | Samples |
| E-STATS DIGEST | |
| INVESTMENT PERFORMANCE REPORT - English Version | |
| INVESTMENT PERFORMANCE REPORT - Malay Version | |